5Mhz---1000Mhz CATV Splitter indoor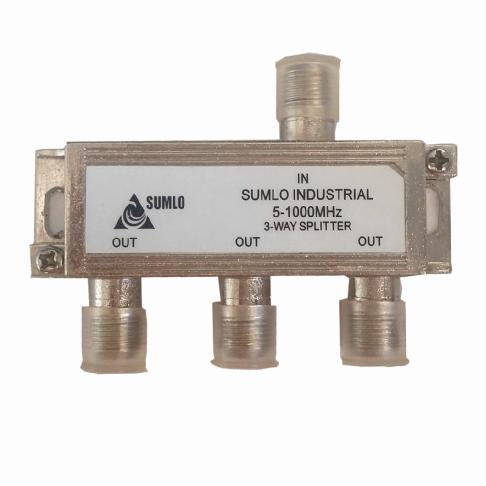 High-quality passive transmission devices for 5~1000MHz bi-directional transmission system.
All ports F-female connector,75 ohm.
Insert loss lower, branch deviation smaller, distribution loss lower, port isolation degrees higher.
Adopt resistance and capacitance mount component and zinc-alloy organic whole. Shell surface plating Sn-Ce and nether cover using Sn, makes waterproof performance very good.
Specifications:
| | | | |
| --- | --- | --- | --- |
| 2-WAY SPLITTER | | | 75ohm F- Female |
| 3-WAY SPLITTER | | | 75ohm F- Female |
| 4-WAY SPLITTER | | | 75ohm F- Female |
| 5-WAY SPLITTER | | | 75ohm F- Female |
| 6-WAY SPLITTER | | | 75ohm F- Female |
| 8-WAY SPLITTER | | | 75ohm F- Female |
Item

Unit

Parameter

WFP-204A

WFP-306A

WFP-408A

Distribution Loss

5~65MHZ
dB
≤4.2
≤6.3
≤8.0
65~550MHZ
dB
≤3.7
≤5.8
≤7.5
550~750MHZ
dB
≤4.0
≤6.5
≤8.0
750~1000MHZ
dB
≤4.6
≤7.0
≤8.5

Isolation

5~65MHZ
dB
≥22
65~550MHZ
dB
≥25
550~750MHZ
dB
≥22
750~1000MHZ
dB
≥22

Return Loss

5~65MHZ
dB
≥16
65~550MHZ
dB
≥16
550~750MHZ
dB
≥16
750~1000MHZ
dB
≥16
Shield Decay
dB
≥100